Tie-Dyeing Museum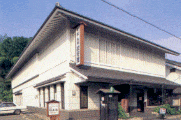 In this house historical items on shibori and the know-hows are exhibited to the public. Also masters of shibori demonstrate the visitors how to make shibori, which is worth seeing. On request visitors can also experience tying in the workshop to see how it works. On the first floor is the exhibition-sale hall, where you can learn all about Arimatsu Shibori.
Demonstration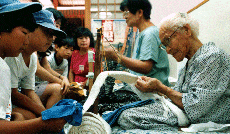 Tie-dyeing is demonstrated on the second floor of the house.( except lunch hour, noon to 1:00pm ) Families, school children, and high school students come and enjoy the demonstration.
Experiencing Tie-Dyeing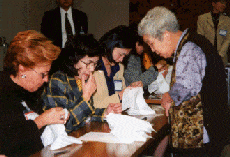 Reservation is necessary.
Cloth and tools to be needed are all prepared by the house.( scissors, needles, strings, etc. ) Tied items are dyed later and sent to the group.
( generally ten days to three weeks later )
Materials to
be tie-dyed
fees
( material, demonstration,
dyeing-stuff, entrance fee,
everything included )
Hours to be needed for
the tie-dyeing
experience course
Handkerchiefs
1,800yen ( tax included )
1,700yen ( tax included/Elementary, junior high and high school students )
1,500yen ( tax included/Infant )
one hour
Hand towel
*Until December 2021 Saturdays and Sundays only.
[Itajime-Sekka] 2,500yen ( tax included )
(You can dye it and take it home on the day)
one hour
Table centers
2,800yen ( tax included )
one hour to one and half hours
Noren ( small curtains )
3,600yen ( tax included )
one hour to one and half hours
Aprons
5,000yen ( tax included )
two hours
T-shirts
4,500yen ( tax included/children's )
5,000yen ( tax included/women's )
5,500yen ( tax included/men's )
two hours
* Add about one hour to each of the time mentioned above for films, demonstration and shopping, which means allow two hours at least for the handkerchief experience course.
Parking The toll parking lot nearby has a capacity for four buses.
The fee is free, a day.
Finished items are sent by mail.
[In consideration of the situation of COVID‑19, we have canceled the experience other than hand towels on Saturday and Sunday. We appreciate your understanding and cooperation.]
Exhibition and Video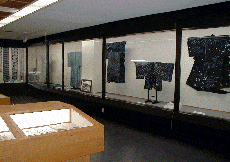 Movies (laser discs), videos, or even live demonstrations by two masters are shown just before your eyes. Items in the exhibition hall are subject to be changed every couple of months.
adult : 300yen
child, junior and senior high student : 100yen
10 per cent discount for a group of 20 or over.
Shop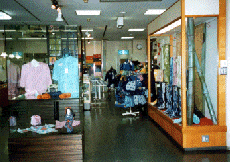 kimono, fabrics, handkerchiefs, neckties, scarves, clothes, aprons, table-cloths, table-centers, yukata, noren (small curtain), bags and other items are sold at the shop.
Takeda Shokuro Memorial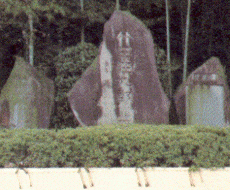 Takeda Shokuro is the pioneer of the town and of Arimatsu Shibori. He promoted Arimatsu Shibori nation-wide. This monument was built to honor his achievement.