Arimatsu has three festive floats: 'Hotei-Sha Float', 'Karako-Sha Float' and 'Jingu-Kogo-Sha Float'. These are taken out to the street at the annual Arimatsu Festival, which is held the first Sunday of October. They are also shown to the public on the occasion of 'shibori festival' held annually in June. These three floats are designated by Nagoya municipal office as 'Cultural Treasures of the People' They are drawn to the street of original Tokaido, and parade along the street, where the spectators still feel the trace of Edo Period in its atmosphere. The sites of two huge floats meeting or changing directions, or performances by mechanical dolls on the floats are special treatments of the parade.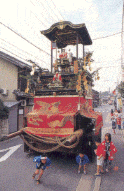 Hotei-Sha Float
This 'Hotei-Sha Float' was presented to Arimatsu from Tamaya-cho ( at present, Nishiki, Naka-ku ) in 1891. When it was built is not known. All the fact we have is that it started to participate in Wakamiya Festival ( held at Wakamiya Hachiman Shrine in Naka-ku ) in 1674. The float is decorated with gorgeously embroidered curtains and a mechanical doll on top, which writes letters on the paper.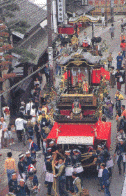 Karako-Sha Float
This float is called 'Karako-Sha', because the three dolls on top represent Chinese children ( Karako ). These mechanical dolls also write letters. The float is reported to have belonged to a rich merchant in Chita Peninsula in the early 19th century, who had it built spending over 20 years.
The body, made of Chinese wood, is decorated with blue sea shells and coral. A fine work of craftsmen. It was given to Arimatsu in 1875.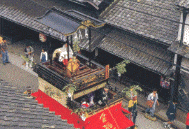 Jingu-Kogo-Sha Float
This float was built in Arimatsu in 1873. The embroidered picture on the curtain is flowers of four seasons, designed by Watanabe Shoga. Among the three mechanical dolls on top represents Empress Jingu-Kogo. One of the dolls has his mouth and eyes open and close, and even sticks his tongue out.
Arimatu Festival Float Museum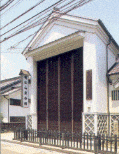 One of the three festive floats is always exhibited to be seen. The gorgeously decorated float can be closely watched. Historical documents on spring festivals ( 3rd Sunday of March ) and autumn festivals ( first Sunday of October ) are also exhibited.